Heroin and Morphine Deaths Highest Since 1993
Quick Links
Quickly skip to parts of this page you are most interested in by clicking on any of the below links.
Sadly the number of people dying due to a heroin or morphine overdose has risen sharply this year. This means England is following the trend set in America where the number of opiate related deaths has dramatically increased over the last twenty-four months.
During 2014 a massive 952 died in England due to a heroin or morphine overdose. During 2012, 579 people died of a heroin or morphine overdose. This means 2014 has seen the highest increase in the number of heroin and morphine deaths since 2001.
There were 3,346 drug poisoning deaths registered in England and Wales in 2014, the highest since comparable records began in 1993.
2,248 (67%) were drug misuse deaths involving illegal drugs. Of all the drug misuse deaths occurring in England during 2014, 42% of them occurred as a result of morphine or heroin overdose.
Figures reveal an increase in the number of heroin/morphine-related deaths for all age groups accept for those aged 70 and over.
Deaths involving cocaine increased sharply to 247 in 2014 – up from 169 deaths in 2013. In England, the mortality rate from drug addiction now lies at 40 deaths per million population.
People aged 40 to 49 had the highest mortality rate from drug misuse, followed by people aged 30 to 39.
These figures were released by the Office of National Statistics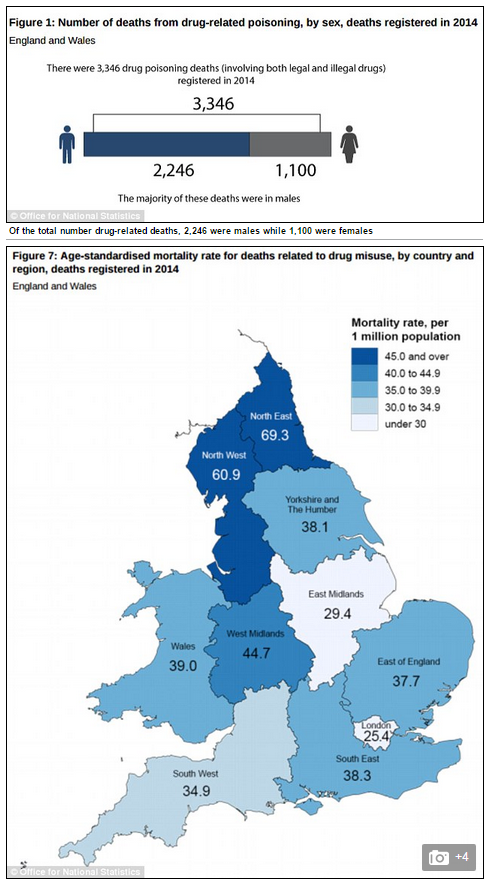 Why such an increase?
Harry Shapiro, a former director of DrugScope hold Ocean Recovery: "There's been such a focus on legal highs, new psychoactive substances, that to some extent maybe we've been taking our eye off the ball a bit.
From a policy point of view, we might have got a bit 'we've ticked all the boxes on this, we're doing well.' There are figures here and from the Crime Survey of England and Wales, that suggest we are not ticking all the boxes."
Surprisingly, Public Health England reported that over 60% of these deaths were suffered by users who had not been known to the NHS as drug users.
This may mean those responsible for treating drug addicts are not doing enough. Since 2010 the Government has dramatically reduced available funding for heroine detox programmes.
The National Treatment Agency for Substance Misuse was completely disbanded in 2013. Now local authorities are charged with the administration of treatment programmes. These are the same authorities that have experiencing large scale budget cuts over the last half decade.
Also a nationwide 'heroin drought' has resulted in an increase in the purity of 'street heroin'.
Over the last year heroin's price has also come down from £75 per gram in 2012 to only £50 per gram in 2014.
England also saw an increase in the number of cocaine-related deaths during 2014. According to Office of National Statistics data, 247 people die from a cocaine overdose in 2014 compared to 169 in 2013. Traditionally the Government has demonstrated an unwillingness to invest in quality cocaine treatment programmes.
A) Heroin can be found in your hair follicles up to 90 days after you first injected it.
What can be done?
These figures make dull reading for the Nation's policy-makers. Since 2010 the number of opiate-related deaths had actually declined until the recent figures were published. We hope the current figures serve as a cold wake up call for those in power.
We hope the focus will shift away from legal highs and instead focus on more dangerous Class A substances such as heroin and cocaine.
Shapiro urges the Government to act. He said "The issue is really: is anyone going to do anything about it and come up with a national strategy to deal with drug-related deaths? It's not just in relation to morphine."
Public Health England's director of alcohol, drugs and tobacco, Rosanna O'Connor said: "Fewer people are using heroin but the harms are increasingly concentrated among older, more vulnerable users and those not recently in touch with their local drug treatment services.
Reassuringly, overall drug use has also declined and treatment services have helped many people to recover but these figures show the need for an enhanced effort."
What Does Ocean Recovery Offer?
Here at Ocean Recovery, we are highly-qualified drug addiction treatment specialists. We specifically aim to treat all different kinds of drug addiction including cocaine, heroin, cannabis. sleeping pills and methadone.
The reason why people become addicted to drugs varies enormously between individuals, that's why making sure your recovery plan is made specifically aimed to your needs is important to us. The process of long term recovery from addiction can be a tough one but with the right rehabilitation programme like the one we offer at Ocean Recovery you can start believing that a life without drug use is truly possible.
If you are concerned you or a loved one could be suffering from a drug addiction, you will undoubtedly benefit from knowing the classic signs.
How long is Drug Rehab?
Deciding on how long your private drug rehab process will be influenced by a number of different factors:
How much has your addiction taken over your life? Would you be able to get time off work or do you have to manage it around your job?
What can you afford? A 90 day stay in a rehab facility will not be within everyone's reach financially.
How severe is your drug addiction?
The length of your Drug Rehabilitation all depends on personal factors and there are no quick fixes when it comes to rehab. It is known that the longer an individual completes rehab for, the greater their long-term recovery is. It's important to have a clear plan of your full recovery, taking each day at a time.
No matter how long your rehab process takes, we will ensure you are fully prepared prior to returning to your home influences. Our team of specialists will help through all the way through your recovery process as well as the days/weeks after.
Our 12-month aftercare programme will also benefit you massively, when thinking about long-term goals. If you'd like to find out more about our services today, get in touch.
Get In Touch
If you're concerned that either yourself or a loved one may be suffering from a drug addiction or has seen an increase in their daily prescription intake, don't hesitate to get in touch with one of our team today.
Alternatively, fill out on of our contact forms online and one of our specialist team members will be in touch
Sources
https://webarchive.nationalarchives.gov.uk/20160106043330/http://www.ons.gov.uk/ons/dcp171778_414574.pdf
https://publichealthmatters.blog.gov.uk/author/rosanna-oconnor/#:~:text=Rosanna%20O'Connor%20is%20Director,health%20and%20to%20address%20inequalities.
https://www.ons.gov.uk/peoplepopulationandcommunity/birthsdeathsandmarriages/deaths/bulletins/deathsrelatedtodrugpoisoninginenglandandwales/2013-08-28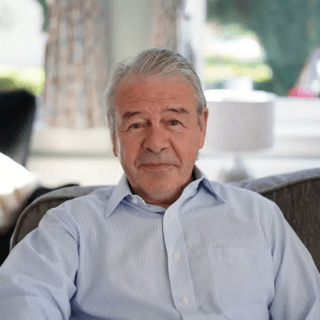 John Gillen
John is one UK's leading professionals in the addiction recovery industry. Pioneering new treatment techniques such as NAD+ and ongoing research into new therapy techniques such as systematic laser therapy, John is committed to providing the very best treatment for people throughout the UK and Europe. During his extremely busy schedule, John likes to regularly update our blog section with the latest news and trends in the industry to keep visitors to our site as well informed as possible on everything related to addiction treatment.
Request A Callback
Enter your phone number and a member of our team will call you back to discuss your recovery.
Download Our Brochure
For more information about the addiction services that Ocean Recovery offer, download our brochure.
Download our brochure
Do I need help?
A lot of people are unsure if there are suffering from addiction. Take these tests to find out if its effecting you without your knowledge.
Select your test and find out more