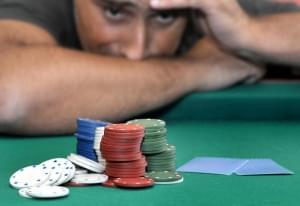 Compulsive gambling can cause considerable strain on all variety of relationships including between families, friends and colleagues. Problem gamblers often steal, lie and cheat in order to conceal and feed their gambling addiction. If you found this page it is probable you have within your family or friendship circle one or more individuals you suspect to have a gambling addiction. If so you'll likely be familiar with the pain and anguish brought on by gambling addiction and it is likely you are eager to learn some strategies which may improve the situation.
At Ocean Recovery in Blackpool our staff provide gambling addiction therapy on a continuous basis. We have amassed many different techniques in treating compulsive gambling addicts and we would like to share some of these insights below.
What follows is six tips in helping a problem gambler.
#1. Help the gambling addict come to terms with his or her addiction
No amount of therapy will work if the addict does not wish to take ownership of his or her problem. Gambling addiction is a recognised medical disorder. It is classified as an 'impulse control disorder'. This means the addict concerned cannot control the urge to gamble. This means it is essential not to blame the addict for his or her addictive behaviour as it is likely the person concerned has considered stopping but simply cannot. The person concerned may even blame you for their addiction in an attempt to avoid self responsibility. This may mean approaching the gambling addict is problematic in the absence of professional support.
Ocean Recovery offers gambling addiction intervention where our therapist will conduct a meeting with the gambling addict concerned and attempt to overcome resistance to the realities of his or her addiction.
At the very least you could consider recruiting the help of friends or family members in order to confront the person concerned. Resting the problem on several shoulders will give you breathing space in order to creatively develop an effective solution to the problem.
#2. Explore treatment options
Clearly to pursue this option you must have overcome #1 above. If you have overcome this important hurdle you are now advised to discuss treatment options with the person concerned.
Ocean Recovery recommends residential rehabilitation for gambling addiction. During this time the addict will live within the confines of our rehabilitation centre and not have access to 'triggers of addiction' such as certain people and places. Initial detoxification is followed by intense counselling and therapy sessions which aim to treat psychological components of gambling addiction. Cognitive Behavioural Therapy is utilised in order to overcome unhealthy gambling behaviours and arm clients with powerful coping strategies in order to fight off the impulse to relapse.
#3. Consider gambling addiction 'self-help' remedies
Be warned of the dangers of 'self-help' remedies as gambling addicts often lack the resolve to execute the below in the absence of professional support.
A list of self-help strategies include:
Distract the addict with alternative activities until gambling cravings cease. This could include watching a film, going for a run or cooking a meal
Seek support from family members or friends and arranged to meet up in an environment where gambling is not possible
Attend a local Gamblers Anonymous meeting
Avoid friends who encourage gambling addiction
Avoid places where gambling is freely available such as public houses and betting shops
Travel to a different environment so as to escape the environment associated with gambling. This could mean going on holiday or visiting friends or family in a different part of the country
#4. Take back control of family finances
This point mostly applies if the gambling addict is a close family member such as a spouse. Do not keep your eyes closed when it comes to auditing the finances. A gambling addiction could cause financial catastrophic and could lead to you losing your home and other possessions. Conduct a thorough review of credit card and bank statements to determine your liability.
#5. Avoid negativity at all costs
The gambling addict often has no control over their behaviour. Negativity will likely make matters worse. Therefore avoid negative emotions such as blame and anger. Instead of lecturing the addict on his or her problem instead try to maintain a position of trust and care.
#6. Be on the lookout for the signs of gambling addiction
Admittedly if you're reading this post then it is highly likely you have come to the conclusion your friend or loved one is suffering from a gambling addiction with some certainty. However a percentage of our readers will be unsure whether an addiction exists or not. If you fall into this latter category you will likely appreciate learning how you may diagnose the existence of a gambling addiction with some certainty.
Some signs to look out for which may indicate a gambling addiction include:
Suspected addict lies in order to cover up his or her gambling activities
You often hide money in order to conceal it from the suspected gambling addict
Suspected addict often spends large quantities of cash without any explanation
Suspected addict often goes missing for many hours without explanation
Contact Ocean Recovery for more information
If you would like to learn more about behavioural addictions such as gambling, sex & gaming as well as substance addiction call today on 01923 804 139. Our residential rehabilitation centre is based in Blackpool in the North West of England. Alternatively you are able to contact our centre by filling in the enquiry form.
Posted on Friday, April 17th, 2015 at 1:59 pm in Gambling.