Benefits Of Having A 'Sober Companion'
If you have recently completed treatment for addiction, the next step is return to everyday life to continue your life of sobriety. As you may expect, this can be an especially fraught return depending on the environment you're returning to.
It can be highly stressful to integrate back into reality after addiction treatment. Sober companions have become a useful tool in combatting relapse in patients who suffer from various drug and alcohol addictions.
In this article, we will discuss:
• what a sober companion is
• who may benefit from working with a sober companion?
• how to choose the most suitable sober companion
• what you can expect a sober companion to do whilst working with an individual
• how long you can anticipate a sober companion to work with a former addict
What Is A Sober Companion?
A sober companion is a specially trained individual employed to support individuals recovering from alcohol or drug addiction.
They work very closely with individuals to ensure sobriety is maintained. This might include:
• staying with the recovering addict,
• closely monitoring whether any substances are in the house, and
• potentially deterring contact with people who might lure the person in recovery back to intoxication.
A sober companion may be a recovering addict themselves. This is often the case, because they'll possess a deep understanding of what the recovering individual is going through.
Who Would Benefit From Having A Sober Companion?
If you have recently completed a successful spell in addiction rehab, it may well be worth your while considering connecting with a sober companion.
Similarly, if someone you know is currently undergoing addiction treatment, organising for a sober companion to be with them from the moment they leave the facility is wise choice.
A recovering addict who is likely to return into an environment where drugs or alcohol are part of the everyday lives of others, would profoundly benefit from using a sober companion – statistics show 40% – 60% of people relapse after rehab treatment, so a non drinker or sober companion can definitely help in this circumstance.
If an individual has a history of relapsing, they are also strong candidates to employ a sober companion to help them post-treatment.
Recovering addicts who have added issues with mental health would also greatly benefit from working with a sober companion. This is because they can offer further psychological support.
How To Choose The Right Sober Companion
It is vital the individual makes a positive connection with their sober companion in order to progress recovery. There are many unregulated avenues in this sector so, unless you are hiring a sober companion from a trustworthy source, it may be beneficial to meet with a professional to get some advice.
Some possibilities for choosing the correct sober companion include:
• hiring through a regulated treatment centre
• consulting with your health insurance company to see if they offer the service
• meeting with more than one individual to get the best personality fit
What You Can Expect A Sober Companion To Do?
As previously mentioned, many sober companions are also on the lifelong recovering journey. This gives them a keen insight into what a recovering addict might be feeling and what behaviours to expect.
A valuable sober companion will first ensure the individual is returning to a safe environment, free from drugs and alcohol. They will keep a close eye on any out of turn behaviour or conversations in order to maintain sobriety, alongside monitoring who the individual is engaging with.
An additional task of a sober companion is to help support the reconnection between the recovering addict and their friends and family. This can often be a difficult and lengthy process which may require further help, such as counselling or family therapy.
Main Benefits Of Having A Sober Companion
Recovering from an alcohol or drug addiction is much more complex than receiving treatment in a facility and returning home. There are many battles and barriers to overcome alongside negative patterns of behaviour to change.
Simply having someone there that understands is an invaluable support for an addict in recovery. Making the change to sobriety cannot be done alone and to truly reintegrate into the world successfully is much easier when you are surrounded by understanding, patient and educated people.
The main benefits of utilising a sober companion during recovery include:
• ensuring the individual is making healthy life choices post-treatment, for example healthy eating and exercise,
• being a pillar of strength and support,
• always being available, where other friends and family might be uncontactable,
• they are non-biased, non-judgmental people who are trained to listen to concerns,
• offering inspirational motivation so that positive steps continue to be taken,
• teaching life skills that may need reinforcing before true independence is an option,
• boosting self-esteem through encouraging positive life activities,
• helping meant broken relationships as a result of addiction, and
• helps alleviate loneliness – which is one of the top causes of relapse.
How Long Should Someone Have A Sober Companion For?
Sober companions can support others in a variety of ways depending on the requirements. It may be necessary to employ a sober companion to move in with the recovering individual or it might be suitable to simply meet once a day or week – there is no one size fits all.
A sober companion can also be signed up to simply accompany someone in recovery to events and parties to ensure they don't partake in alcohol or drugs.
If a sober companion is employed as on-call, you can expect them to be available to chat to on demand through the day or night. They could also do house visits if required.
A live-in sober companion moves into a client's home for a higher level of support, including emotional, physical and general life duties. This may be more suitable for individuals who have a very disrupted homelife.
In any case, the amount of time someone should have a sober companion for really depends on the individual. Generally speaking, a support plan will be put in place at the beginning of the working relationship to establish goals and targets and will be continuously evaluated to ensure the client doesn't relapse and has appropriate support when needed.
Want To Know More
A sober companion can be a crucial factor in winning the battle against addiction. This fight will take time and courage and having someone there for you at the times you are feeling the weakest can make the difference between relapse and recovery.
To get started on your recovery you can call 01253 847 553, or text HELP to 83222, and we'll walk you through the next steps.
Quick Links
Quickly skip to parts of this page you are most interested in by clicking on any of the below links.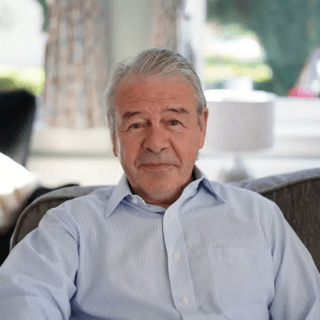 John Gillen
John is one UK's leading professionals in the addiction recovery industry. Pioneering new treatment techniques such as NAD+ and ongoing research into new therapy techniques such as systematic laser therapy, John is committed to providing the very best treatment for people throughout the UK and Europe. During his extremely busy schedule, John likes to regularly update our blog section with the latest news and trends in the industry to keep visitors to our site as well informed as possible on everything related to addiction treatment.
Request A Callback
Enter your phone number and a member of our team will call you back to discuss your recovery.
Download Our Brochure
For more information about the addiction services that Ocean Recovery offer, download our brochure.
Download our brochure
Do I need help?
A lot of people are unsure if there are suffering from addiction. Take these tests to find out if its effecting you without your knowledge.
Select your test and find out more