Scotland Rising Drug Deaths Now The Highest On Record
This week the National Records of Scotland published its annual Drug-related Deaths in Scotland report covering the year 2014.
According to the report drug related deaths are now at their highest levels since records began in 1996.
During 2014 the report states 613 people died in Scotland due to a drug overdose.
This is a massive 16% increase on 2013's figure. 74% of those who died of a drug overdose were male. 31% of deaths occurred under the jurisdiction of NHS Greater Glasgow and Clyde. 11% were from Lanarkshire and 17% were from Lothian.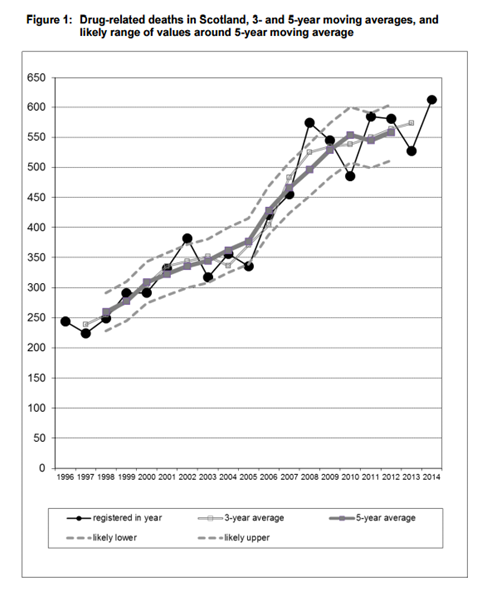 The Scottish Government claims an 'aging group' of addicts, the so-called 'trainspotting generation', were most affected by drug-related deaths.
Before 2014, the number of drug related deaths had slowly fallen since 2011. In 2011 584 people died in Scotland due to a drug overdose.
Most common cause of drug overdose
Opiates such as heroine, morphine and methadone were responsible for more than half of the 613 deaths in 2014. 35%, or 214 deaths involved a methadone overdose.
35% of the total number of deaths affected the 35-44 age group. The average age for a drug-overdose has risen in Scotland to age 40 from an average age of only 28 years' old in 1996.
Experts blame drug classification reforms for this increase in the number of people dying of a drug overdose in 2014. Both zopiclone and tramadol were both re-classified as controlled drugs in 2014.
However, Paul Wheelhouse MSP, Scotland's community safety and legal affairs minister, feels the figures do signal progress. He told Ocean Recovery Centre: "Scotland still faces a huge challenge in tackling the damaging effects of long-term drug use among an ageing cohort of individuals in Scotland."
"This group of individuals often have long-term, chronic health problems as a result of sustained and, in many cases, increasingly chaotic drug-use issues. We are undertaking work to better understand the needs of particular sub-groups."
Roy Robertson, chairman of the National Forum on Drug Related Deaths, said "Critical to reducing mortality rates in this cohort is person centred harm reduction and drug treatment services. For this to be successful, we need services that have the capacity, range of interventions and the skills to engage this population."
Dave Liddell, director of the Scottish Drugs Forum added: "Those who are dying are, in most cases, the most vulnerable of the people in Scotland with a drug problem.
"As a result, we must work with services to see how we can engage better with this group – working more effectively and engaging in active outreach – as there is strong evidence that engagement with services is a protective factor in reducing overdose deaths."
Find out the latest UK drug use statistics here >
Quick Links
Quickly skip to parts of this page you are most interested in by clicking on any of the below links.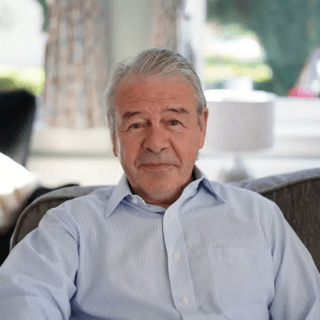 John Gillen
John is one UK's leading professionals in the addiction recovery industry. Pioneering new treatment techniques such as NAD+ and ongoing research into new therapy techniques such as systematic laser therapy, John is committed to providing the very best treatment for people throughout the UK and Europe. During his extremely busy schedule, John likes to regularly update our blog section with the latest news and trends in the industry to keep visitors to our site as well informed as possible on everything related to addiction treatment.
Request A Callback
Enter your phone number and a member of our team will call you back to discuss your recovery.
Download Our Brochure
For more information about the addiction services that Ocean Recovery offer, download our brochure.
Download our brochure
Do I need help?
A lot of people are unsure if there are suffering from addiction. Take these tests to find out if its effecting you without your knowledge.
Select your test and find out more