Quick Links
Quickly skip to parts of this page you are most interested in by clicking on any of the below links.
Around this time of the year, many people tend to reflect more on their drinking behaviour, since the holidays were less than two months ago. As you know, over Christmas and New Year, the drinks flow freely and you can imagine that the average intake of alcohol in the UK is a lot higher than normal.
However, for a lot of people, the binge drinking does not end at the holidays. Alcohol Abuse has been an epidemic that has been plaguing the British population for years. Are you worried that you might have developed a dangerous habit by drinking too much? You did the right thing by reading this page and reflecting on your relationship with alcohol.
What is acceptable Drinking?
If you have uttered the question 'Am I drinking too much' recently, you probably have good reason to be worried. Luckily, you can measure your weekly alcohol intake against the government guidelines for drinking.  For many people, the guidelines for alcohol intake seem to be quite unclear.  In 2016 the Chief Medical Officers released a new guideline to follow.  The previous guidelines released in the 1980's, have been adjusted to exclude a divide in guidelines for women and men alike.  The maximum intake per week, should be capped at 14 units of alcohol.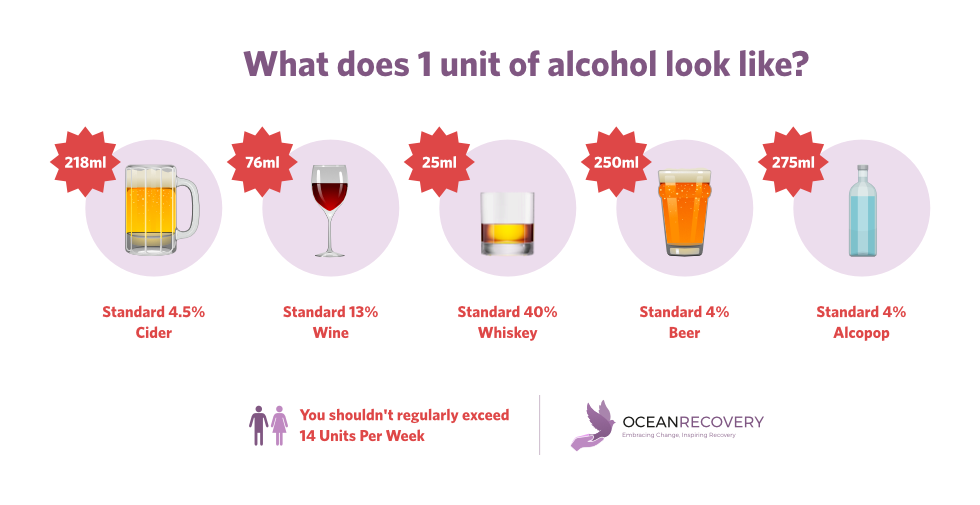 The recommended frequency of drinking is not as clear-cut as the volume of your drinking. Many specialists argue that if you space out your drinking habits rather than do in consecutive days, you could give your liver a bit more time break down the alcohol from the day before.
I'm sure I drink a lot more that that…what are the health hazards of drinking too much?
You already have an answer to the question "am I drinking a too much". However, it is important to know what drinking too much can do to your body. Alcohol abuse and its effects have been documented many times throughout history. From liver failure, to a Korsakoff syndrome; your body will be suffering throughout if you keep drinking too much.
I'm drinking too much, but I cannot quit. What do I do now?
There are many people who are in a comparable situation and found a way out. Wherever you are in the United Kingdom, Ocean Recovery can help you stop drinking too much, and become a healthier person. For more information on Alcohol Rehab Call us today on 01253 847 553 for immediate help.
If you are still not sure that you are drinking too much, read our  "Am I an Alcoholic " page, or do our Alcohol Abuse Quiz to see how your drinking behaviour is like.
John Gillen - Author - Last updated: January 13, 2022
John is one UK's leading professionals in the addiction recovery industry. Pioneering new treatment techniques such as NAD+ and ongoing research into new therapy techniques such as systematic laser therapy, John is committed to providing the very best treatment for people throughout the UK and Europe. During his extremely busy schedule, John likes to regularly update our blog section with the latest news and trends in the industry to keep visitors to our site as well informed as possible on everything related to addiction treatment.
Request A Callback
Enter your phone number and a member of our team will call you back to discuss your recovery.
Download Our Brochure
For more information about the addiction services that Ocean Recovery offer, download our brochure.
Download our brochure
Do I need help?
A lot of people are unsure if there are suffering from addiction. Take these tests to find out if its effecting you without your knowledge.
Select your test and find out more