Alcohol Detox
Here at Ocean Recovery Centre, our clinical team provide a full detoxification service as part of our effective alcohol rehabilitation programme. This is simply the safest and most effective way to overcome alcoholism.
Our alcohol addiction withdrawal treatment takes places as part of our specialised detoxification programme, where every trace of the substance is withdrew from your body in a medically supervised environment – all of our detoxification programmes come with a FREE 12 month aftercare package.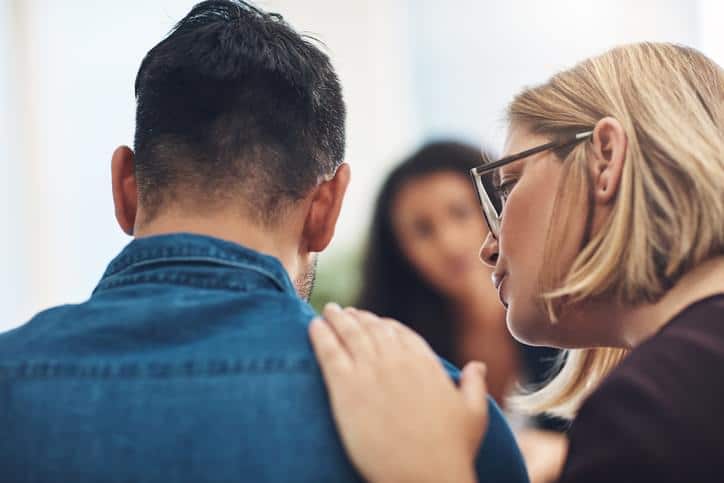 Our alcohol detox treatment programme is primarily designed to help clients develop new ways of controlling their alcohol use or achieve total abstinence from alcohol and help you stay that way. Choosing our treatment programme will inevitably mean you will need an initial alcohol detox programme. This aims to eradicate the alcohol presence from your system with the support of a clinical prescribing regime to help you safely detox from alcohol and cope with the withdrawal effects that can be experienced while detoxing.
As part of this alcohol detox, you will be assessed and prescribed by our Doctor and then place under close observation for the first 24-72 hours whilst you commence your detoxification treatment. This will enable our team to closely observe how you respond to this treatment and ensure you remain comfortable and safe throughout the process. If you are a 'chronic alcoholic' or very dependent on alcohol, it is likely that you may be at risk of serious withdrawal from it and our team of dedicated staff will monitor you closely for any signs of serious illnesses associated with alcohol withdrawal such as Delirium Tremens.
Once the first 24-48 hours are completed, our team will work with you to start to plan and build your alcohol rehab programme which will focus on a range of therapies to help you start to deal with your addiction, understand why you drink, how it effects your life and what you want to achieve during your treatment programme with us.
We employ a range of psychiatrists, psychologists, experienced and qualified addiction staff and a range of other professional therapists that are on hand to help you through these issues. You will be allocated your own worker, who will help you design your Recovery Action Plan (RAP) and guide you every step of the way on your new journey to recovery.
How Long Will An Alcohol Detox Treatment Take?
The duration of alcohol detox and rehab varies and the duration is normally dictated by the level of the clients addiction to alcohol. To achieve a safe and comfortable detoxification and begin to prepare yourself for the next steps, we would recommend a minimum of 10 days.
We will not accept anyone for detox for less than 7 days due to the clinical risk presented with alcohol dependency and would always recommend that clients consider increasing their stay up to 28 days so that they can really benefit from our therapeutic rehabilitation service and address the range of issues that are associated with your alcohol use. This is proven to increase your chances of a full recovery from alcohol addiction and help you sustain that recovery once you leave our care.
The therapeutic rehabilitation service, refers to various practices depending on the clinic you go to. At Ocean Recovery Centre, we choose a mix of techniques to ensure you have the mental state of mind to stop abusing alcohol after you leave our rehabilitation clinic. A very popular and proven method of therapeutic rehabilitation is Cognitive Behavioural Therapy (CBT). CBT helps you understand yourself better and teaches you techniques and coping mechanisms for your cravings. CBT also helps post- alcohol detox patients to find their triggers and see what sets them off – and can even help you pinpoint the source of your addiction.
We also offer treatment for co-existing mental health issues, like depression and anxiety. Often these are the either the cause or effect of alcohol abuse, and helping you deal with mental health can equip you with a stronger shield against future cravings.
If you have any questions about the alcohol detoxification programme, then please don't hesitate to call us on 01253 847 553 and we will provide you with experienced guidance.
Can You Carry Out An Alcohol Detox At Home?
According to the World Health Organization's 2018 Global Status Report on Alcohol and Health, there are over 3 million people who die from the harmful effects of alcohol on a yearly basis, and this amounts to more than 5% of the burden of disease world-wide
Alcohol is yet still seen as an innocent substance, however, it is still a dangerous substance that could destroy lives , relationships, ambitions and dreams. The longer you abuse alcohol, the more difficult it becomes to stop drinking alcohol. For many alcohol addicts, alcohol detox becomes the only option to get rid of the alcohol in your body.
Alcohol detox however, is not something you can easily do by yourself. The process of detoxifying refers to removing all toxins from your body, and alcohol detox is therefore the process of removing all traces of alcohol from your body. Because alcohol affects almost every cell in the body, it is very complicated to withdraw from it. Rehabilitation clinics generally recommend that those affected by alcoholism complete an alcohol detox programme before entering rehabilitation. It is necessary for all traces of alcohol to be removed from the body so that the person is completely clean before attempting rehab
Learn More About Our Alcohol Treatment Options
Get in touch with us today and we will talk to you about our different treatment options. If you're worried that you have any of these symptoms of alcohol dependence, or you'd like to learn more about the withdrawal process, then contact us now on 01253 847 553 and see how we may be able to help.
There are a number of questions which we are regularly asked surrounding alcohol detoxification, so we have answered some of the most common queries below.
What Are The Signs Of Alcohol Withdrawal?
When you stop drinking after prolonged alcohol consumption, you will more than likely suffer from alcohol withdrawal symptoms.
Usually, the signs of alcohol withdrawal are divided into two different categories: Physical and psychological signs.
Physical Signs:
• Hand tremors
• Nausea and/ vomiting
• Sweating
• Hallucinations
• Minor to moderate seizures
Psychological Signs:
• Anxiety & Depression
• Irritability
• Restlessness
• Insomnia
Can You Detox From Alcohol At Home?
An alcohol detox is something you can do at home but we definitely wouldn't advise it. Some have had success detoxing from home and using the support of a group such as Alcoholics Anonymous, while we do advise our clients to visit these kinds of groups after treatment, we know that alcohol withdrawal can cause severe health issues that will require medical treatment.
We know that if you have an alcohol addiction then it's very unlikely that you will fully recover without addiction treatment – this is why supervised detox and professional rehab will give you a better chance of maintaining long-term sobriety.
This is why if you looking for a serious treatment for alcohol addiction, we'd advise using a medically supervised clinic, like ourselves.
What Are Delirium Tremens?
Delirium Tremens, also can be known as DTs or the shakes is a severe form of alcohol withdrawal symptoms. This is quite common with people who have suffered with prolonged periods of alcoholism, or are going through an instant withdrawal from alcohol.
Common symptoms associated with DTs include:
Nightmares
Hallucination
Fever
Perspiration
Vomiting
Seizures
Heightened heart rate
Tremors
Increased blood pressure
Can You Die From Alcohol Withdrawal?
Experts say it is possible to die when going through alcohol withdrawal. But it is extremely rare.
Can You Avoid Alcohol Withdrawal?
This is not possible. If you are dependant on alcohol then your body will certainly go through alcohol withdrawal when you stop drinking.
How Long Will A Person Stay Off Alcohol After Detox?
If you are serious about quitting alcohol, a combination of addiction treatment support, aftercare services, group support and understanding of your friends and family will make it possible for you to stay off alcohol after detox.