Drug Rehab
What is Drug Rehab?
Throughout the United Kingdom, many people struggle with drug addiction. Every year, there are thousands of people who die due to a drug or alcohol related incident or illness.
For many of us, it is simply impossible to stop doing drugs – as the claws of addiction have been doing all this time. We have been doing more than that in a certain sense. We have been
This drug addiction treatment is part of a residential service followed by aftercare therapy on a weekly basis. Residential drug rehab requires you to live within the treatment centre for the entire length of the programme. Ocean Recovery Centre is based in Blackpool, Lancashire, in the North West of England. It's location is ideal for those living in the North of England. However, we may recommend you attend one of our other treatment centres based in a different part of the country, far away from your home so you can have a good distance between yourself and any bad influences. This can help you focus better on recovering from your drug addiction.
What we offer at Ocean Recovery Centre
We offer you a fully bespoke drug rehab plan. When you decide to join Ocean Recovery Centre, a consultant psychiatrist will carry out a full examination, psychological and physical. During this examination you can explain the the nature and severity of your drug addiction and the history associated with it. Any other substance misuse, whether that be alcohol or other drugs, must be disclosed.
If you're ready to access drug rehab at our centre , call us today. One of our trained addiction workers will be able to speak to you about your wants and needs, and what the best course of action can be for you. An assessment will follow. This can be done over the telephone and won't take long to complete. It will simply allow us to find out more about you and the nature of your addiction, ensuring that we only suggest the most appropriate addiction treatment at our centre.
A medicated drug detox regime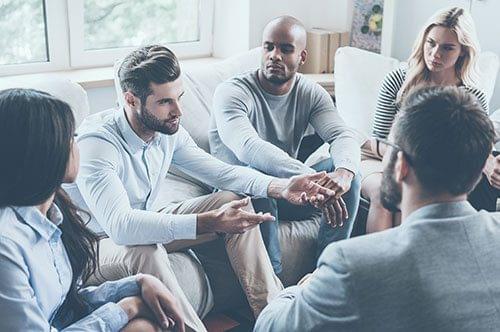 For most instances of drug abuse, a medically assisted drug rehab and drug detox programme is required. Detox requires you to flush all toxins from your body.
Ocean Recovery Centre offers a medicated detox regime which means you will be offered medication that will ease any withdrawal symptoms during the drug detox.
After completing your drug detox programme, we would move on to a full rehabilitation programme. This will typically take place at the same treatment clinic where you undertook your detox programme. We often elect to work with you in order to understand your drug habit and urges better.
This is done through CBT – Cognitive Behavioural Therapy. It allows you to change your way of thinking, back to the way it was before drug addiction hijacked the decision making skill in your brain.
Give Ocean Recovery Centre a call today on 01923 804 139, or read more about drug addiction.
Drug Rehab FAQ How do I know if my loved one is addicted to drugs? 
There are a few indicators that could show you that your loved one could be suffering from a drug addiction, but there is often no way to talk to them about it – as drug addicts tend to keep their addiction quiet. This is often due to feelings of shame, as there is still a stigma surrounding drug addiction worldwide. It is often seen as a weakness – but nothing is further from the truth. Drug addiction is a disease that is often too hard too battle on your own.
I'm not sure if I am addicted: How would I know ?
Many people with an addiction often do not believe that they are addicted to anything. Realising that you might have an addiction is already the first step towards finding out if you are addicted.
Request a callback today to start your recovery. Just fill in your name and phone number and we'll be in touch!